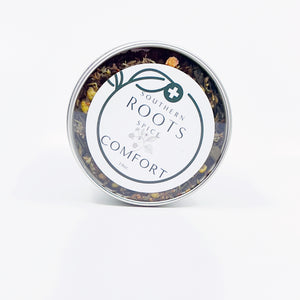 Like wrapping yourself in a heated blanket! Relax your mind, calm your cramps, and soothe your discomfort. Featuring all-natural anti-inflammatory herbal ingredients like raspberry leaves and lemon balm, this lightly-caffeinated brew offers you easy re-leaf.
Blended With Rooibos Tea, Raspberry Green Tea, Jasmine Chun Hao Tea, Lemon Balm, Chamomile Flowers, Fennel Seed & Raspberry Leaves
WARNING: Be sure to talk with your doctor or healthcare provider before use, especially if you are pregnant or nursing, taking any medication, or if you have a medical condition. This product is not intended to diagnose, treat, cure, or prevent any disease. Intended for adult use only.
Brew Guide:
This tea contains a low level of caffeine | Steep at 212° for 5-10 minutes.