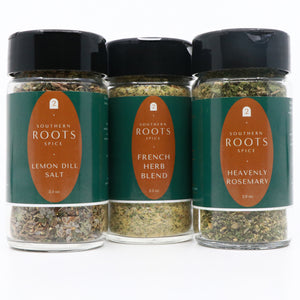 Welcome to March Spice Journey. This month we celebrate the wonderful herbs of France. 
French cooking is beset with traditions past down from generation to generation. For many centuries French cooking had been influenced by others cultures like Spain, Italy, Switzerland, Germany and Belgium. Until the the 17th century, when two French chefs found medieval French cookbooks, including recipes. This pushed the movement from all other cultural influences around French cooking, to a home grown national cuisine. Their influence removed foreign ideas and influences from the kitchen as they worked to hone what we know today as French Cuisine.
Celebrated for its techniques whether braising, sautéing, poaching, or flambéing; French cooking holds indigenous roots with herbs, garlic, mushrooms, and truffles giving incredible burst of flavor to vegetables and meats.
"Merci Francois Pierre La Varenne  et Marie-Antonie Careme. Vos esprits pionniers nous inspirent tous. 

GET ALL 3 INCLUDING RECIPE CARDS AND FRENCH FINISHING SALT TASTING!!

Lemon Dill Salt, 4oz. Bottle
French Herb Blend, 4oz. Bottle 
Heavenly Rosemary, 4oz. Bottle