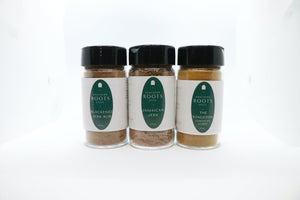 Our selections we know you will enjoy! Travel with us to this FLAVOR filled island of jerk and curry deliciousness. 
This months journey includes:
Blackened Jerk Rub 
Let the flavors of chilies, thyme, cinnamon, ginger, allspice, cloves, garlic and onions travel you to the heart of Jamaican cooking. 
Jamaican Jerk Blend
Essential to authentic Caribbean cooking, this medium spicy blend contains black pepper, cayenne, allspice, thyme, chili pepper, nutmeg, garlic, ginger, onion, basil and pitch of sugar!
The Kingston
Like the capitol city of Jamaica, this curry blend of  cumin, turmeric, coriander, brown mustard seed, ginger, black pepper, habanero chilies, anise seed and a few other spices has all you need to enjoy Jamaican cuisine.