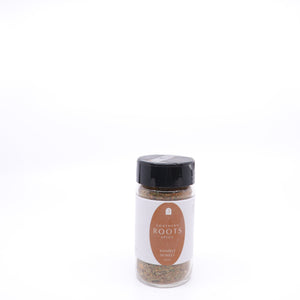 Khmeli suneli is a complex and fragrant mixture of warm, nutty, grassy, and bitter flavors.  The combination of ingredients varies between households and spice merchants but khmeli suneli commonly contains (the best herbs in the house) fenugreek seeds and leaves, coriander, savory, and black peppercorns; other additions include dill, bay leaves, mint, and dried marigold petals.
Level 3
Traditionally used in stews and meat dishes, provides amazing depth of flavor to beans and roasted vegetables. Sometimes when we're poking around the kitchen, we just open the jar to enjoy a whiff, it's so wonderful. 
BENEFIT
This blend is packed with antioxidant anti-inflammatory properties and has been known to support cholesterol control, gas and digestion.