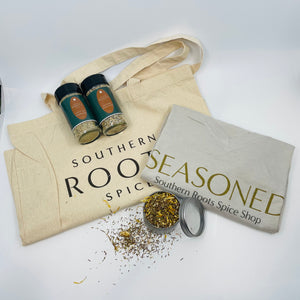 Let's treat mom to something special this mother's day. Flowers are fabulous but spice is just....so ENDLESS.. like a mother's love. 
Box Includes:
1. Ain't No Pressure
Our no salt blend adds flavor that elevates any dish without using salt.  It's an ingenious blend of onion, garlic, citrus peel, bell pepper, tomato powder, lemon powder and our secret mix of 13 spices that creates a tasty salt-free seasoning, adding character to all types of food. 
2. Salmon Seasoning 
This blend of minced garlic, toasted onion, bell pepper, mustard seed, bay leaf with a pinch of sugar & a dash of salt really enhances the flavor of your salmon. 
3. Springtime Tea
Light bodied with a natural subtle sweetness, green rooibos plays well with a variety of flavors. This summer fruit inspired blend of green rooibos with peaches, strawberries and citrus is juicy, nectar-like and supremely refreshing. Hot or iced and naturally caffeine-free.
4. Tea Infuser- The "Cage"
5. "Southern Roots Spice" T-shirt
6. Granulated Honey complementary "tasting" packet