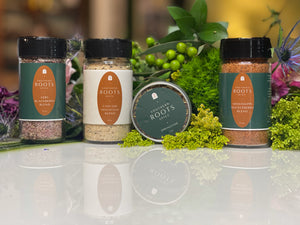 Enjoy these amazing dried fruit blends. Dried fruit pieces and fruit powder add a unique savory flavor to meats, salads, vegetables and vegan protein options. Each blend is well balanced with freshly dried Washington Apples or Oregon Blackberries and let's not forget those harvested in the wild Huckleberries. 
Cascade Mountain Blend
Made with fine sea salt, dark brown sugar for the molasses flavor, Pepper, Garlic, freeze dried Apple chunks and powder, spices.
Very Blackberry Blend
Blackberries are freeze dried then crushed. Blended Oregon blackberries, sea salt, pepper, bourbon sugar, garlic and our special blend of spices.
Mississippi Huckleberry Blend
Wonderful blend for smoking, oven roasting or bar-b-cuing. Made from freeze dried Idaho Huckleberries, salt, sugar, paprika, garlic, pepper and a hint of cayenne. This one is totally one of a kind!!
Springtime Tea
Light bodied with a natural subtle sweetness, green rooibos plays well with a variety of flavors. This summer fruit inspired blend of green rooibos with peaches, strawberries and citrus is juicy, nectar-like and supremely refreshing. Hot or iced and naturally caffeine-free.